Dr. Hakeem M. Safina Anees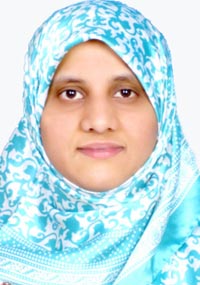 Dr.Mrs. Safina Yasir M.D
M.D (Unani) - Doctor Of Medicine - Maharastra University
B.U.M.S - Unani Medicine and Surgery - Dr. M.G.R. Medical University
Dr. Safina is a consulting physician in Dr.Yasir Unani Herbal Hospital which is a heritage building located in the centre of Vaniyambadi. She is a Unani and Islamic Medicine practitioner. Dr. Safina is a dedicated doctor and provides counselling to patients for stress and depression related issues and on parenting, lactation, fertility, and aging issues. Qualified in Cupping Therapy, Psychotherapy, Meditation and Relaxation Techniques, Dr. Safina excellently handles severe medical conditions and chronic illnesses with ease.
EDUCATION & MEDICAL TRAINING
Research Papers
Dr.Safina has published many research papers in various reputed journals and has written medical related articles for various magazines and Newspapers.
EXPERIENCE
Specialised in problems specific to women, Dr. Safina Anees is concerned with health issues and problems specific to children and Women and aims at treating their problems naturally with herbal medicines.
Dr. Safina also been honoured and awarded for her medical achievements and commendable contribution to the Unani System of Medicine, by respected C. Veeramani and Vice Chancellor G. Vishwanadhan.
QUALIFICATIONS
M.D (Unani) – Doctor Of Medicine – Maharashtra University
B.U.M.S – Unani Medicine and Surgery – Dr. M.G.R. Medical University
CYN – Yoga and Naturopathy – Madurai Kamaraj University
COM – Herbal Oil Massage Therapy – Madurai Kamaraj University
CDP – Digital Photography – Madurai Kamaraj University